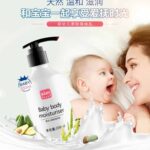 Baby Body Moisturiser
Protect baby skin in all-round way
1 Moisturize+ 2 Nourish + 3 Defend
Effects
• Moisturize & Soften Nourish baby skin in refreshing and smooth way.
• Long-lasting Nourishing Deeply nourish dry skin and delicately pamper baby
• Gentle Protection Soft and a refreshing texture, easily absorbed after applying, light, breathable and non-sticky
Key Ingredients
•Shea butter – moisturize and protect skin It has a long-lasting moisturizing and nourishing effects on the skin as well as excellent repair effect, and can also resist sun damage.
•Prunus Amygdalus Dulcis Oil – nutrition replenishment Rich in vitamins, protein and polyunsaturated fatty acids, minerals and glucoside, the texture is gentle and easy to absorb, especially suitable for babies.
•Wheatgerm Oil – enhance immune system Contain a large amount of Vitamin E, which can effectively repair the skin, improve the skin's defense, fully nourish the delicate skin of the baby, and enhance the defense ability.
Method of Use
After the baby takes a bath, wipe off water, take an appropriate amount of product, and apply it evenly onto the baby's skin. Gently massage to facilitate absorption. The product can be reapplied in the dry area.